For three weeks from April 12 to May 4 last spring, Amie, Elza and I embarked on a grand road trip through California, Arizona, and southwestern Utah. Our home for these three weeks was a surplus vanpool van that my dad purchased some years ago and converted into a DIY camper of sorts. The van had a futon in the back, a secondary electrical system for running a cooler and lights, and lots of room for our stuff.
Since Elza likes to participate when either of us try to use a computer or use our phones, it has taken us quite a while to complete the documentation of our trip, also we took about 2,000 photos and going through all of them was not a trivial task. But here you go, better late than never.
Day 1; Friday April 11: Packing
We reserved an entire day for packing. I worked on some last-minute tweaks to the electrical and audio setup in the van. Then we loaded up the futon and the rest of our gear. The following three photos illustrate our van camping setup.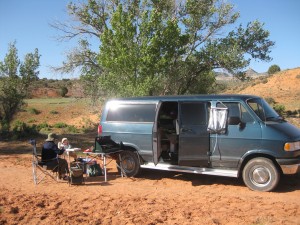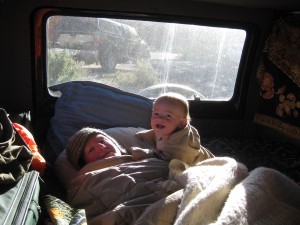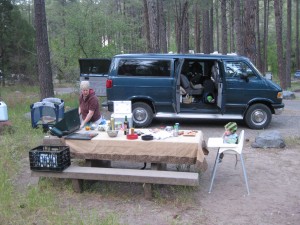 Day 2; Saturday April 12: Drive to Portland
We loaded up the remaining few items into the van, grabbed the baby, and headed south towards Portland. In Portland we hung out at our friends JP and Sylvia's house, walked their neighborhood on a pleasant spring evening, and found a food truck for dinner. We spent the night at JP & Sylvia's place and got an early start the next day.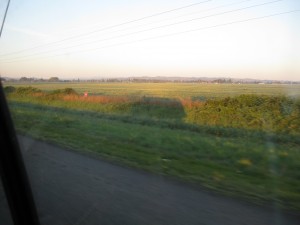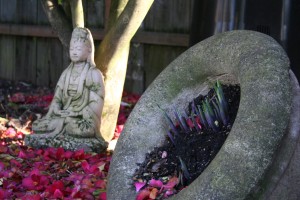 Day 3; Sunday April 13: Drive to Big Bend, CA
We headed south on I-5 to Eugene as the sun rose over the Cascades, and had a nice brunch at the Morning Glory Cafe. Then, we took the scenic route through Klamath Falls and the Modoc National Forest. We wanted to stop at Howard's Gulch campground for lunch, but we arrived to find it closed and instead we went up an unnamed gravel road on the other side of the highway and set up Elza's high chair and used some scrap wood to make a picnic table. After lunch we hiked a bit up the road and scrambled up a columnar basalt outcropping. Along the road we found interesting obsidian and petrified wood specimens. We arrived in Big Bend just before dark; on the last few miles Elza informed us that she had enough car riding for one day.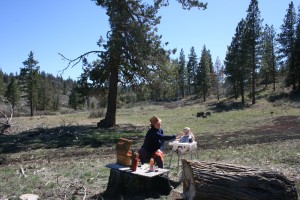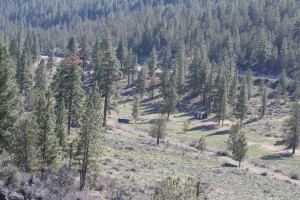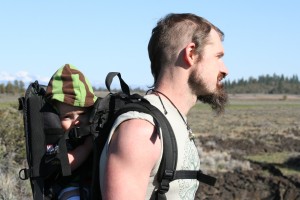 Day 4; Monday April 14: Hang out in Big Bend Hot Springs
Big Bend Hot Springs is officially closed to the public, but we had received an open invitation from our friend Seabrook to come visit. He welcomed us and took us on a lovely tour of the land. Big Bend Hot Springs has a collection of natural and developed hot springs, including one pool perched above the confluence of two rivers, and a geothermal well used for heating the buildings on site. The goal is to get the place up to code so that it can be opened to the public, but there is a lot of work to do to get improvements such as a fire suppression system installed, utility poles relocated, and going through permit review with the county.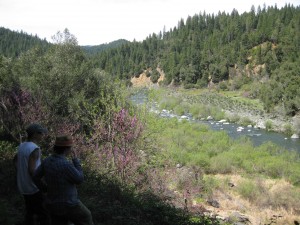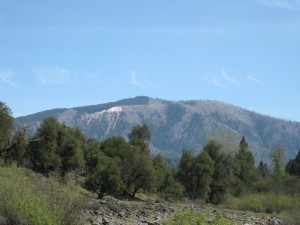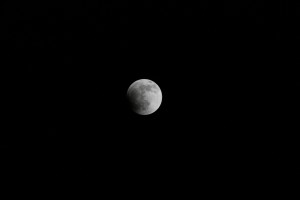 Day 5; Tuesday April 15: More Big Bend
Today we stayed in Big Bend for another day and helped out in Seabrook's garden. this was the night of the full lunar eclipse, which we enjoyed from the Osprey Pool while Elza slept within range of the baby monitor; it was the perfect evening and a very special moment.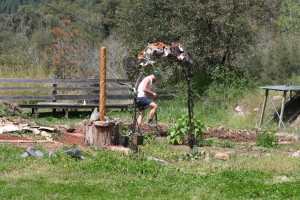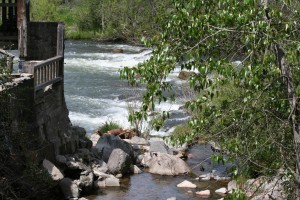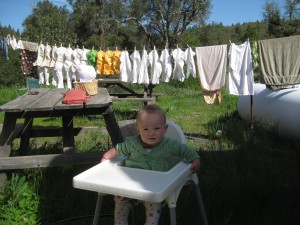 Day 6; Wednesday April 16: Drive to Lafayette
We loaded up the van for a drive to the bay area to visit some friends in Lafayette, near Walnut Creek. The drive only took a few hours and we arrived in time for dinner.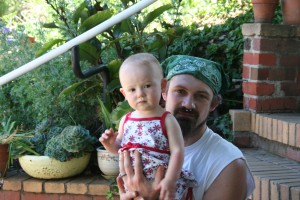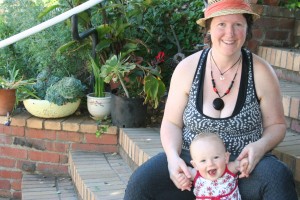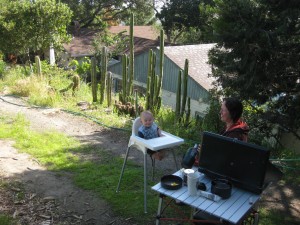 Day 7; Thursday April 17: 2nd day in Lafayette
Amie went to yoga with our friend at a fancy-pants yoga studio while Elza & Owen went on a hike in the hills adjacent to the property. It must have worked because Amie got carded while buying beer for Owen on the way home (just a few weeks before her 40th birthday).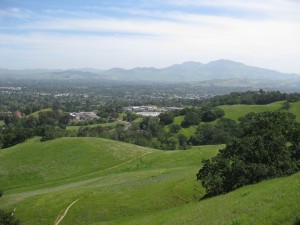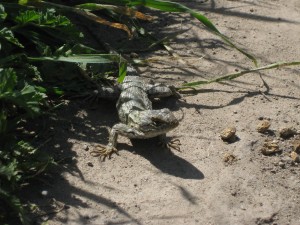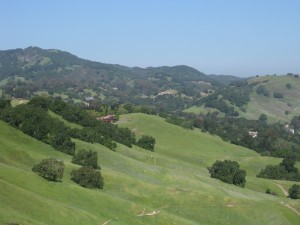 Day 8; Friday April 18: Lafayette Day 3
Today we just hung out and helped our friends set up for a big Easter party.
Day 9; Friday April 18: To Hemet
We quickly packed up and got a fairly early start. We would like to have taken the scenic route via Yosemite and Inyo National Forest, however that would have made for a long day and probably would have exceeded Elza's daily driving time limit, so we found a compromise route via The 99, a nice alternative to The 5. We had an excellent lunch at an organic restaurant called Revive Cafe in Fresno. We thought it would be wise to avoid the Los Angles area on a Friday afternoon, so we took a route over Tehachapi Pass and descended into Hemet at sundown. Grandpa Dave met us at the door to the "ant farm" where he and Winnie live, and showed us to the guest quarters where we stayed for the next few days.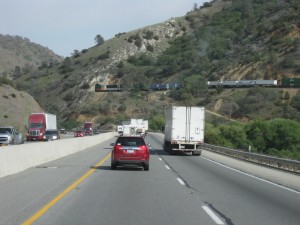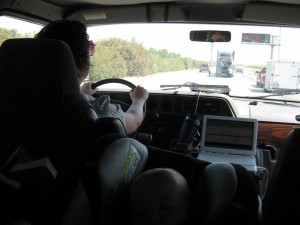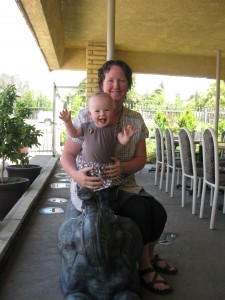 Day 10; Saturday April 19: The Living Desert
We piled into Grandpa Dave's Honda and all went to the Living Desert in Palm Springs. It was very hot in Palm Springs, but we survived and had a yummy dinner at Native Foods Cafe before heading back to Hemet.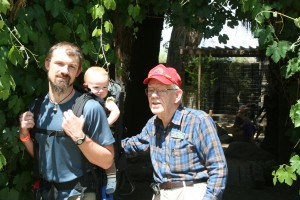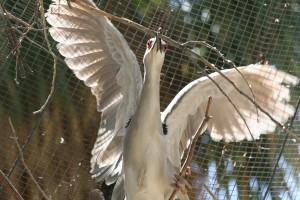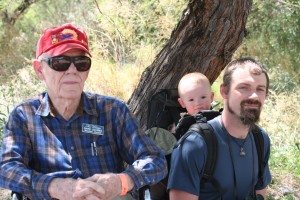 Day 11; Easter Sunday April 20
Elza, Amie, Grandpa Dave and I went to Diamond Valley Lake and took in the scenery. Unfortunately the Museum there was closed for Easter, so we went back to Hemet and then joined Winnie for an Easter Brunch. Elza took her first steps that evening in Dave & Winnie's living room.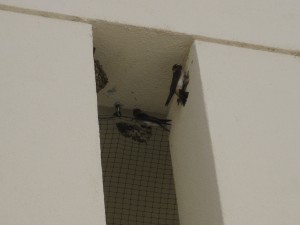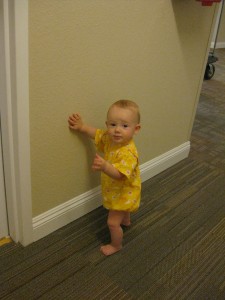 Day 12; Monday April 21: To Arizona
We packed up the van, said our goodbyes to Grandpa Dave and Winnie, and then headed NNE into Arizona. We stopped at the Chamber of Commerce in Wickenburg, located in the old train station, and got some info on a short hike in Box Canyon on BLM land. We took a lovely evening hike down Box Canyon and saw a rattlesnake and lots of saguaros. The trailhead was pretty deserted (ha ha) and seemed like a fine place to camp, so we did.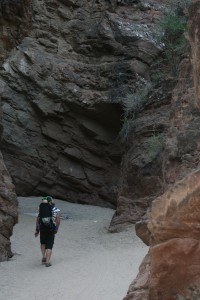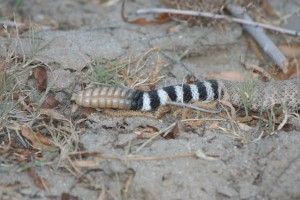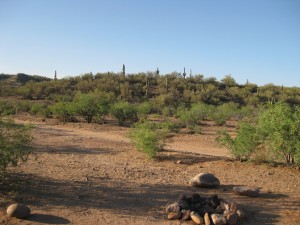 Day 13; Tuesday April 22: Watson Lake
We woke up to a lovely sunrise, and then continued NE towards Prescott. We went on a short day hike at Watson Lake amongst some interesting rock formations. After that, we drove to Dead Horse Ranch State Park (thankfully there were no dead horses there) and rented a cabin for a couple of nights. After we got ourselves settled down at the cabin, we hiked around the park in the evening as night fell.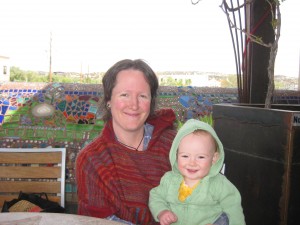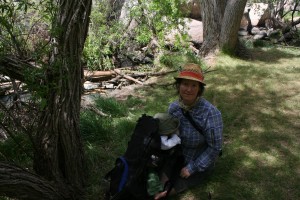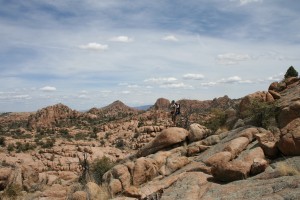 Day 14; Wednesday April 23: Verde Valley Railroad and on to Sedona
In the morning, we did some much-needed laundry in Cottonwood; Elza had a grand time running around the laundromat while we waited. Then, we took an excursion on the Verde Valley Scenic Railway. After that we set off towards Sedona. We had a fine dinner at Ken's Creekside in Sedona, then bummed around looking for a place to camp. Finding a place to camp/park was difficult. Sedona is a rather hoidy-toidy place with no-camping ordinances and signs everywhere and few sanctioned camping options available. Finally we found a turnout on a dirt road just outside the city limits that didn't have any threatening "no camping" signs and seemed fairly out of the way.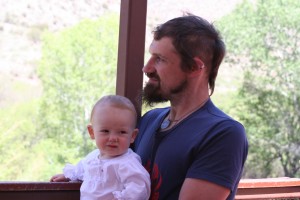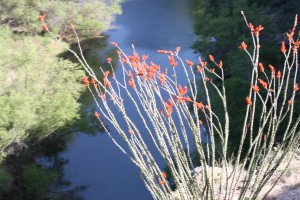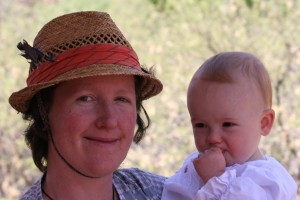 Day 15; Thursday April 24: Boynton Canyon
We woke up early and went on a hike at Boynton Canyon. Boynton Canyon is a popular hike, but for good reason. The hike starts out in a narrow red rock canyon, that is, after you hike around the enormous and gaudy Enchantment Resort that sits in the entrance to the valley. The trail ends at a high point with modest views, but we scrambled a little bit past the official end of the trail and found much better views. Thanks to some info from others on the trail and the topo maps I had downloaded to my phone, we located and visited some impressive cliff dwellings. That evening we camped at Cave Spring Campground (featuring an actual spring in a cave) and cooked a delicious dinner.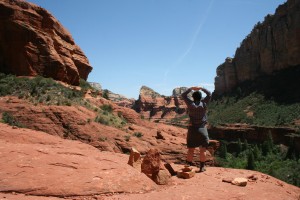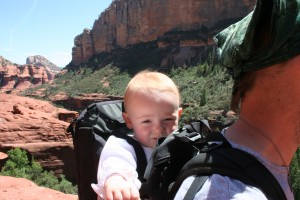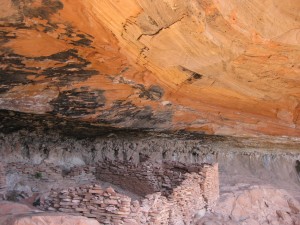 Day 16; Friday April 25: Oak Creek Hike
Today we went on a hike at West Fork Oak Creek, just a bit south of Cave Springs Campground. This hike winds through a narrow canyon with one of the area's only year-round streams. The trail crosses the stream about 14 times before ending at a submerged canyon, where the signage encourages most visitors to turn around at this point. We, however, took off our hiking boots and waded through the canyon, with Elza on Owen's back on the way in and on Amie's back on the way out. This was the most beautiful and interesting part of the hike. We saw what we think was a Milk Snake on the trail too. After the hike, we drove north through Flagstaff and then into the night where we camped at a desolate location between Flagstaff and Page after the van's headlights cut out a couple times while driving in the pitch dark (this was later fixed with an old T-shirt and duct tape).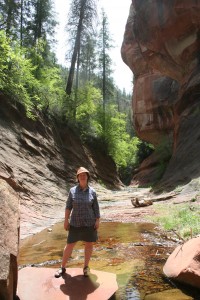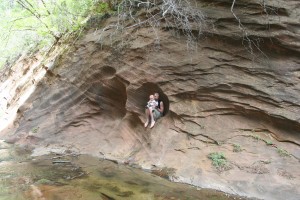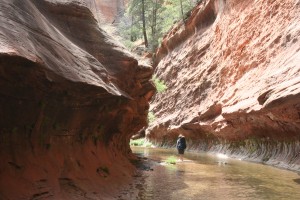 Day 17; Saturday April 26: Antelope Canyon
We woke up bright & early and had mediocre breakfast in Page, then we went on a guided tour of Antelope Canyon, a popular and impressive slot canyon, situated in the eerie shadow of the coal-fired Navajo Generating Station. The weather was cloudy with light rain. We took a lot of photos. After that we drove west towards Zion National park and cruised into Springdale looking for a place to stay the night. This proved challenging and we ended up cooking dinner in the town park and then parking overnight in a place on the side of the highway signed 'no camping' (we were simply parking…)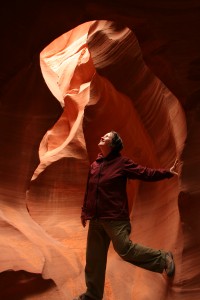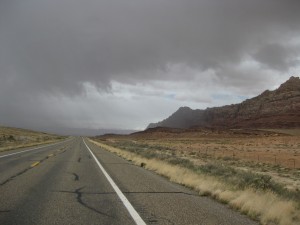 Day 18; Sunday April 27: Zion
We spent this day exploring Zion National Park. The place was a zoo, even in early spring. The variety of people visiting this park was almost more interesting than the scenery and natural beauty. The most common wildlife sighting was of several species of gray squirrel, and almost every one had at least one human taking a video of it. Zion has a very nice shuttle system used to access the lower canyon area. A benefit of the shuttle system is that it allows a visitor to take a one-way hike and end up at a different trailhead. We went on a hike to Emerald Pools and then caught another shuttle to the Temple of the Sinawava at the end of the canyon. After that we returned to the van and then drove through the Mount Carmel tunnel to the east end of the park. The eastern portion of the park actually looked like a more interesting place to explore, but we had to continue eastward towards Bryce Canyon to stay on schedule. We found a very nice campsite in the Dixie National Forest just NW of Bryce Canyon National Park.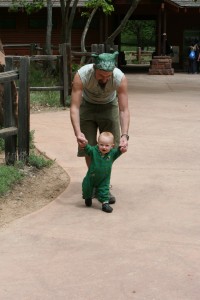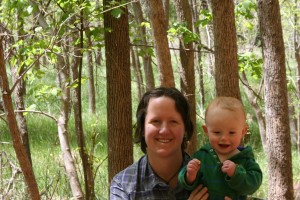 Day 19; Monday April 28: Bryce Canyon
A dusting of snow greeted us in the morning at our campsite, a result of being at 7000+' elevation. We quickly whipped up some breakfast, packed up, and ventured into Bryce Canyon National Park. We checked out the visitor center and then went on a nice loop hike through the Queens Garden. Bryce was much less crowded than Zion; the campgrounds weren't even open yet. After the hike, we checked out a little bit more of the park, decided that it all looked the same, and then drove eastward towards the Escalante drainage. We camped that night at Escalante Petrified Forest State Park.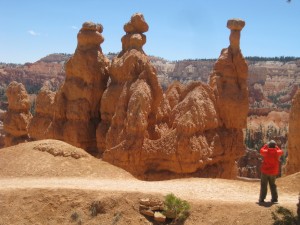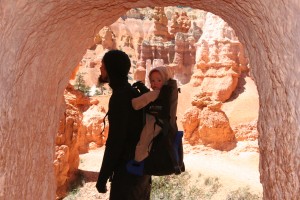 Day 20; Tuesday April 29: Slot Canyons in Escalante
Since we were staying at the Petrified Forest State Park, we of course had to check out the petrified forest. We hiked the lovely loop trail and saw some really cool petrified logs. Then we headed to the Escalante-Grand Staircase Visitor Center to get some beta on good places to explore in the area. The rangers there were very helpful. We wanted to explore a slot canyon more off the beaten path, but also baby-compatible. They steered us to a trailhead that accessed three different slot canyons, called Dry Fork, Peek-a-Boo, and Spooky. This sounded like a fun adventure so we stocked up on supplies at the fabulous Escalante Mercantile & Natural Foods Store, and then headed down the Hole in the Rock Road. This was a horribly washboarded rough road and we could drive the van no faster than 20-25 mph without rattling our brains out; the trailhead was 30 miles down this road. Along the way we stopped at Devil's Garden and roamed around for a bit. The hike to the slot canyons was pretty easy compared to that horrid drive. But the canyons were spectacular. Peek-a-boo had an exposed climb at the beginning that we didn't feel safe carrying the baby through, but Spooky was fun to explore. It was so narrow that Owen had to take Elza out of the backpack and hold her above his head to negotiate the narrow canyon. Then we checked out the Dry Fork Canyon, which wasn't as narrow but goes on for quite a ways. We had to turn around because it was starting to get late and we weren't sure exactly where we would be camping that night. We ended up camping near Dry Fork wash just a little ways down the Hole in the Rock Road.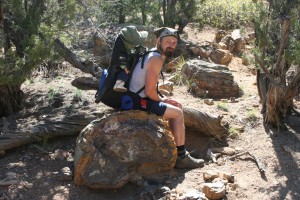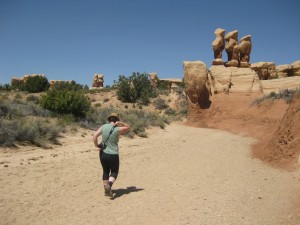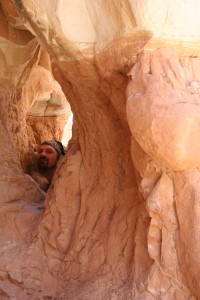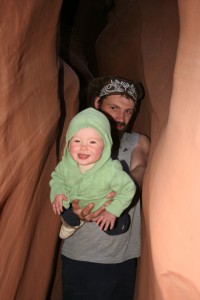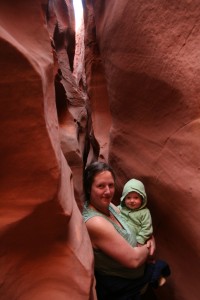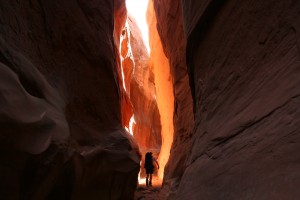 Day 21; Wednesday April 30: Escalante Canyon
We started off the morning by driving back up the horrid Hole in the Rock Road; along the way we checked out some cool dinosaur footprints. Then we headed east on Highway 12 to the point where it crosses the Escalante River. From there we hiked up the Escalante Canyon a few miles to an impressive arch formation, and checked out a view of a cliff dwelling, where we turned around. We tried to camp nearby at Calf Creek campground, but it was hopelessly full. Instead we continued up highway 12 for a bit until we found a nice spot on a gravel road just off the highway.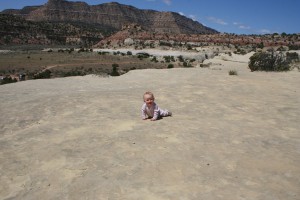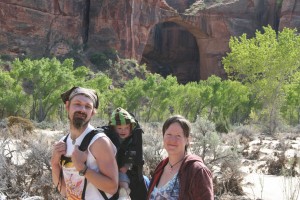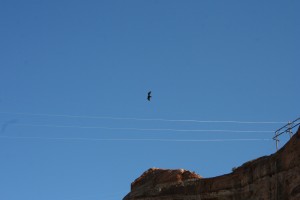 Day 22; Thursday May 1: Lower Calf Creek Falls
We began today by backtracking a bit on highway 12 and hiked on the Calf Creek Trail to Lower Calf Creek Falls. It was a pretty hot day, and the mist from the falls created a nice oasis where we ate lunch. Elza ran around in the sand and boulders around the plunge pool and thoroughly enjoyed herself. We saw some impressive petroglyphs along the trail. After the hike we headed north on Highway 12, stopped at the Anasazi State Park Museum in Boulder, UT, and then continued to Torrey, UT where we stayed at a nice hotel and had dinner at Cafe Diablo.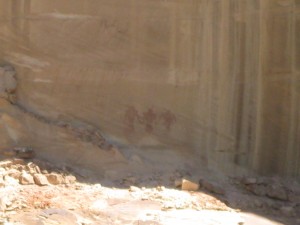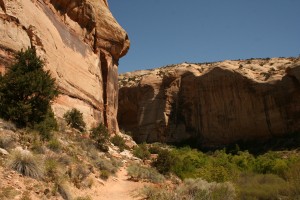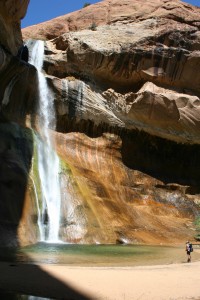 Day 23; Friday May 2: Capitol Reef
We took a quick drive through Capitol Reef National Park, through the main road and then down the scenic drive to the Pioneer Register, stopping at several scenic turnouts along the way. We didn't have much time to go on any day hikes, but it seemed like this park was pretty well set up for auto-touring. After exploring Capitol Reef, we headed northwesterly, through some terrible traffic in the Provo/Salt Lake City area, and then made it as far as Pocatello before the Baby's driving time limit expired. We found an inexpensive motel in Pocatello and crashed there for the night.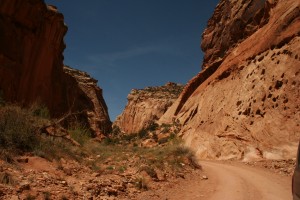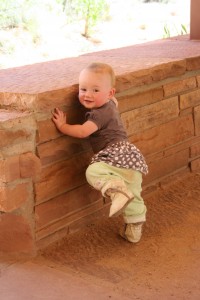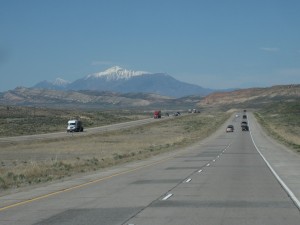 Day 24; Saturday May 3: Craters of the Moon
We started out by heading north out of Pocatallo towards Craters of the Moon National Monument & Preserve. We checked out the visitor center and then hiked around the Devil's Orchard. Then we checked out the spatter cones. Unfortunately, Amie twisted her ankle in one of the spatter cones. Due to the spatter cone injury, the unruly baby, and general malaise, we decided not to explore the lava tubes. After Craters of the Moon, we continued northwesterly towards Boise, where we had an early dinner, then continued north through eastern Oregon and back into Washington State. We pulled into the Selah Creek Rest Area on I-82 late and crashed there for the night.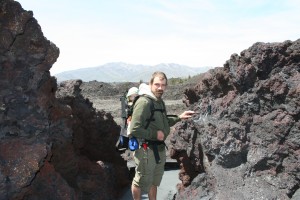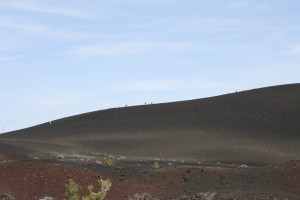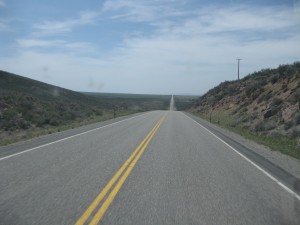 Day 25; Sunday May 4: Home
A beautiful sunrise greeted us at what must be the rest area with the best view in all of Washington State. After utilizing the facilities, we pulled back onto the interstate and were back home before 9:00 AM. Then the unpacking began…