Last weekend my friend Tschuai and I went on a backcountry ski adventure. We started at the Steven's Pass summit, ascended Skyline ridge, dropped into the next valley to the north, and then came out at Yodelin Place. This was my first real backcountry skiing adventure, and I had a blast.
I have been slowly learning to telemark over the past couple of years, and I got some climbing skins for my birthday last year, but before this weekend I had only telemarked at ski areas and hadn't yet used the climbing skins. Tschuai and I concocted a plan to ski/hike up to the top of the Double Diamond lift at Stevens Pass Saturday night, then head over to a fire lookout up on Big chief mountain ("The Shack") and camp there. On Sunday we would ski out and maybe catch a couple of runs before heading back in time for band practice on Sunday night.
I spent the day Saturday trimming and preparing the skins to fit my skis. This was a time-consuming task, since I have never done it before. Tschuai was supposed to pick me up around 5:00pm after he got off work. I was all packed up and ready to go when he stopped by. We were going to pick up two other of Tschuai's friends, but they were running very late. By the time we started heading into the foothills, it pretty late and raining hard, so we decided to stay at a cabin in Baring that night.
On Sunday morning, Tschuai's two friends got lazy and decided to just buy lift tickets and ski at ski area. So, it was just Tschuai and I left to explore the backcountry. Our original plan would not work well now because Steven's pass does not allow uphill travel during open hours (despite the fact that the Pacific Crest Trail goes right through it), so that effectively killed out plans to get to the shack. We sought out an alternate plan.
We did a drive-by of the Surprise Creek trailhead, but decided that the snow there was poor. We checked out Tunnel Creek, which looked better but there appeared to be zero parking available anywhere within a mile. (Anyone know how one is supposed to park to access Tunnel Creek in the winter? Please comment.) We settled on Skyline Ridge, a familiar spot right across the valley from the ski area. As we approached the pass, Tschuai's Subaru began to overheat. We investigated and found that the radiator cap had blown off. We replaced the cap and barely made it to the pass before the Subaru completely overheated. At that point we decided to blissfully ignore the mechanical difficulties and go skiing.
We started climbing up the Skyline Lake track, along with other parties with dogs and kids being towed on toboggans. When we reached the lake, it was lunch time. We contemplated our next move. We didn't have any real maps of this area, but I had my GPS. With the GPS, we determined that we could drop into the next valley to the north, intercept the Pacific Crest Trail, and then follow it back to the parking lot. This seemed like a fine plan given the amount of time we had left in the day. After lunch, we beelined to a saddle in the ridge a short ways from the lake.
Now for the fun part. We removed the skins from our skis and descended into the valley. The snow was great, a nice fluffy layer of powder on top of some sightly chunkier stuff. There was maybe two sets of recent tracks down the valley and they promptly ended half-way down (guess they hiked back up to Skyline Lake?). The snow became progressively crappier as we descended, eventually becoming crusty ice. We located the Pacific Crest Trail and followed a set of snowshoe tracks that appeared to follow the trail. However, following the tracks led us below the trail and we ended up at Yodelin Place. This was okay, except that we would have to either hike up the highway or hitch a ride back to the pass.
We followed Yodelin Place back to Highway 2, with a brief detour to check out the east portal of the Old Cascade Tunnel. When we got to the highway, we got lucky and found a vehicle there that was about to depart westbound. Tschuai got a ride with them (they didn't have much room) and returned with the Subaru. We loaded up our stuff and took off with just enough time to make it back to town for band practice.
Unfortunately, the overheating issue presented itself again when we climbed back up to the pass. After some prodding, poking, and playing with the heater, we determined that the problem was low coolant. We managed to fill up the radiator and expansion tank, thanks to the people at the Steven's Pass maintenance shack who let us take a few gallons of water. Soon we were back on our way home, but now late for practice.
Although our backcountry ski outing didn't cover any impressive amount of distance, this was a great learning experience for me and I had a great time. I am already scheming some possible backcountry skiing adventures to tackle in the future.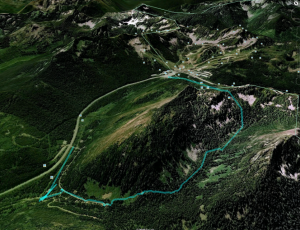 GPS trace of our ski route, projected onto Google Earth
[Download the KML file]