Over the past fall and winter, Amie, Elza and I went on several trips to search for fine edibles.
Lake Cushman
In early October, we rented a cabin at the Lake Cushman Resort. It was the off-season and the place was deserted. We harvested a bounty of Chanterelles, both Yellow and White, a bunch of Lobster Mushrooms, and one large Sparassis crispa! We also went on a lovely day hike up staircase. On this trip, we discovered a delicious way of cooking mushrooms: dousing slices with olive oil and baking them on a cedar plank (next to the Salmon).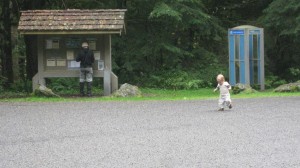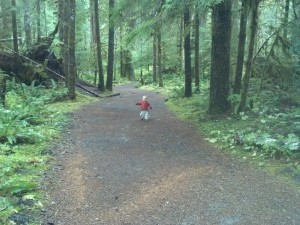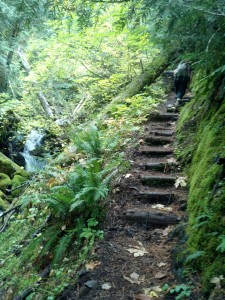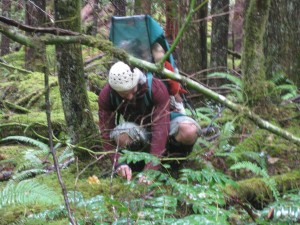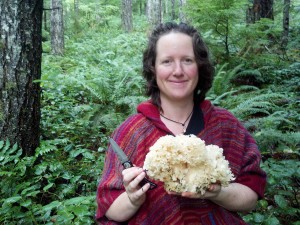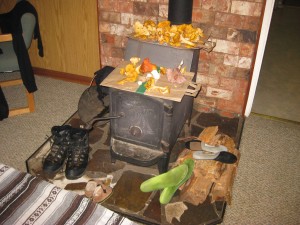 Chanterelling with Canadians
One of our AirBnB guests really wanted to go do something local with us, and we had been thinking about visiting one of our favorite mushroom patches along the I-90 corridor, so we all piled in the Pathfinder and headed up to our secret location near Rattlesnake Lake. We found a good amount of Yellow Chantrelles. The guests were from Vancouver BC and they seemed to really enjoy the trip. Elza rode in the backpack and helped spot mushrooms.
Undisclosed Lake
At an undisclosed location northwest of Snoqualmie pass, we set out on what was intended to be just a day hike. We were pleasantly surprised to find a healthy patch of Matsutake mushrooms. We gathered a bagful on the way up, arrived at our destination, then on the way down picked the ones we missed. We let Elza walk the last 1/2 mile down the trail; she did great except for one collision with a woody shrub.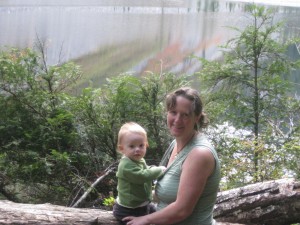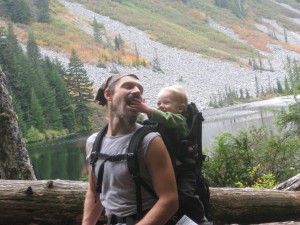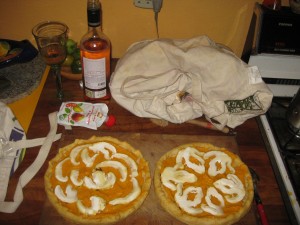 Razor Clamming at Long Beach
Amie, Elza, & I rented a cabin at Shakti Cove Cottages and our friends Grace, Eric & Allie rented an adjacent cabin. We stayed for two nights and all collected our limit of 15 clams per person on both nights. Shakti Cove is a great place to stay for clamming, it's walking distance to a beach that is separated from the main beach access by a large creek, so it doesn't get a large amount of traffic. The clams we dug, although plentiful, were rather small compared to what we are used to. We also went for a hike at Leadbetter Point State Park, and to our surprise found a few nice patches of Matsutake!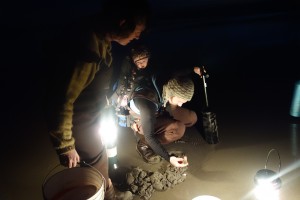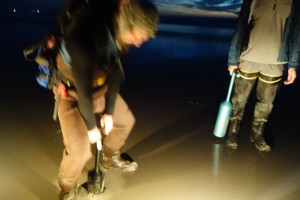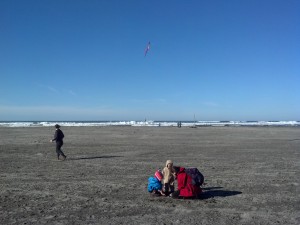 Another Chanterelle trip
The chanterelles seemed a little early on our previous visit to the location near Rattlesnake Lake, so we ventured out for a return visit a little later in the season. We found several good patches, some were already picked but still plenty to be found.
Chicken harvest
For our next harvest, we didn't have to travel far at all. Our chickens, no longer the spring chickens that they once were, were not laying many eggs, while still consuming large quantities of feed and tearing up the yard. So with a heavy heart, we butchered the four chickens remaining in the flock. While we were at it, we also adopted two other old hens from others and processed them as well. Later we had a yummy chicken stewed in a red wine sauce for two days and cooked for about 6 hours.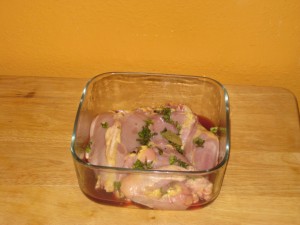 Razor clamming near Grayland on MLK weekend
Over the weekend of MLK day, we made another trip to the coast in search of Razor clams. We headed down to Olympia on Saturday to meet up with our friends David, Alex, and Zoe; then we carpooled over to Greyland and drove out on the beach. The first spot we tried wasn't all that fruitful, so we piled back into the car and drove down the beach a ways (where there were more cars parked on the beach). We had better luck in the second spot. Amie and I dug our limit of 15 clams each (we were pondering whether Elza was entitled to 15 clams of her own; the published rules are somewhat gray on the subject). Then we drove back to Olympia where Alex and David cooked us a delicious dinner, then we spent the night there before stocking up on artesian well water and then headed back north on Sunday.
Razor Clamming at Westport
We made yet another quest for Razor Clams in late February with our friends, Sherri, and Maya. We rented a vacation rental in Westport with beach access and spent two nights. Unfortunately the clams weren't very prolific near the beach house, so we had to drive down to our previous spot close to Greyland. The clams were large but were more sparse and we really had to hunt for them. We got close to our limit both nights. Elza again had a great time at the beach riding on Owen's back.